Ocellia cables, art of sound.
The Ocellia cables, of an exceptional neutrality and sound quality, match ideally our loudspeakers and electronics. They also improve in an unequalled way any Hi-Fi system.
Designed and developed by Ocellia, this cables which the strict conception is based on a revolutionary discovery called , are using a structure and matérials (99,99% pure copper or silver, natural dielectric, mineral dielectric) allowing to free from different audible phenomena, responsible for an important loss of musicality.
They are available in different versions, handmade in our workshop, life guarantee, only made to order and available in all length.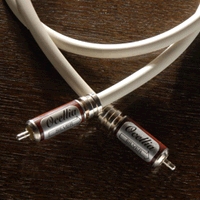 Silver :
Silver is less sensitive to MDI than others metals (copper, gold, brass,...), his electrical and musical superiority is explained by his better conductivity, his smooth surface less sensitive to MDI, his oxidation, remaining conductive and his better vibratory performance.
A "Natural" dielectric :
The experiences we have leaded on the use of "Natural" dielectric have demonstrated these ones can fight more efficiently against MDI produced at the interface conductor/dielectric and their spread in the dielectrc or at its surface. This observation, which can not be authenticated by usual measurements but only by a comparison listening test, proves the indisputable subjective superiority of the natural dielectric against synthetic ones (Teflon, PVC, polythylene,...).
The protective outer jacket :
Born of 2 years of works, the protective outer jacket, made up with minerals, allows owing to its structure, to avoid the spread of MDI and to protect from outer damages (humidity,....) the pair conductor/dielectric.
Connectors :
The connectors used to make our cables, are made to minimize the spread of MDI.